Chair's Message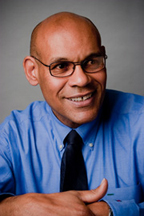 Jeffrey C. Stewart
Professor & Chair
Forty years ago, the University of California at Santa Barbara launched a program devoted to the research, study, and teaching of Black Studies after several African American students seized control of the computer center on campus late in 1968 and demanded systemic change in the curriculum of the university. In the decades that followed, numerous struggles no less difficult have been waged to preserve, expand, and solidify a freestanding Department of Black Studies. Today, Black Studies is acclaimed by students as one of the best teaching departments on campus, with a solid roster of world-renowned scholars who teach, research, and serve the intellectual and policy interests of Black people around the world.
There is no more propitious time than now to be a student and teacher in Black Studies on our campus. The election of Barack Obama as the first Black President of the United States has marked a seachange in our national identity. President Barack Obama now leads the nation as well as a whole people, because his competence, energy, and forthrightness once again have called us to take on the nation's and the world's unfinished business. It may truly be said that we have entered a new world of competence. As an essential participant in this culture of competence, the Department of Black Studies at UCSB demands of its students and faculty and administrators the very highest levels of performance, research, and community service. But his election also reminds us of what our enthusiasm must not allow us forget. We still live in perilous times and therefore must continue in Emerson's complex formulation—to be men and women thinking.
For the perilous journey includes some uncomfortable truths. We continue to need a shock of recognition. For too long, Black people have been excluded from the central narrative of America, have been denigrated, demonized, and cast aside as merely the slaves, the barely free, and the disfranchised of the so-called march of progress that is seen as America. Now, we are witnessing a change in that calculus, such that what it means to be an American, what it means to be a self-made woman, what it means to be a self-conscious citizen of the world is changing. What is also changing is the sense that Black people are the world's perennial "outsiders." With the election of a second-generation African as President, the terms and conditions of what is important on the world stage have changed. Now, Africa is recognized, finally, as one of the keys to a complex century of global citizenship that connects us to all the peoples of the world.
As we continue to shape the academic discourse about how and why the Black experience is a liberating one, we invite you to come and join us in the making of this new, more inclusive history.