Previous Black Studies Special Topics Courses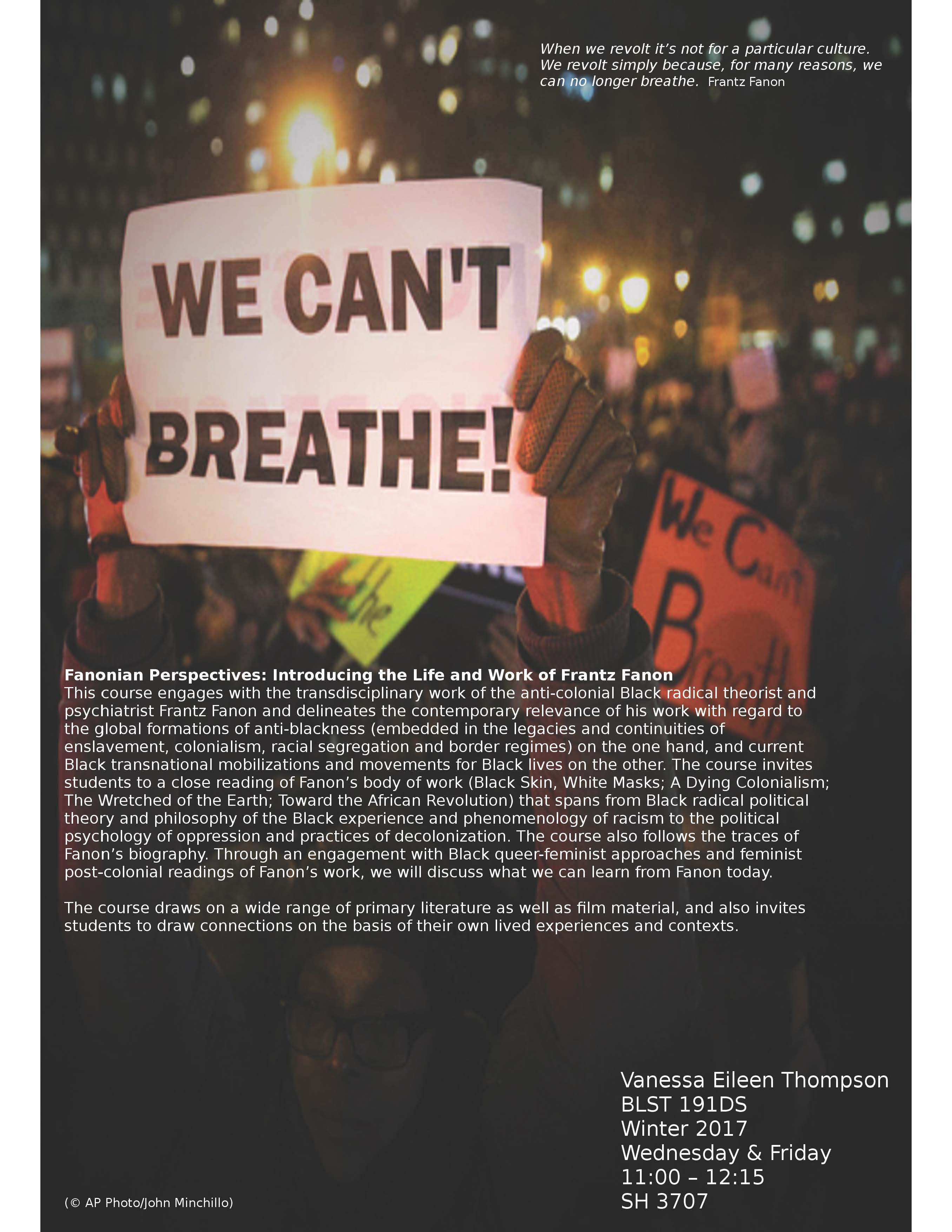 Fanonian Perspectives: Introducing the Life and Work of Frantz Fanon
This course engages with the transdisciplinary work of the anti-colonial Black radical theorist and psychiatrist Frantz Fanon and delineates the contemporary relevance of his work with regard to the global formations of anti-blackness (embedded in the legacies and continuities of enslavement, colonialism, racial segregation and border regimes) on the one hand, and current Black transnational mobilizations and movements for Black lives on the other. The course invites students to a close reading of Fanon's body of work (Black Skin, White Masks; A Dying Colonialism; The Wretched of the Earth; Toward the African Revolution) that spans from Black radical political theory and philosophy of the Black experience and phenomenology of racism to the political psychology of oppression and practices of decolonization. The course also follows the traces of Fanon's biography. Through an engagement with Black queer-feminist approaches and feminist post-colonial readings of Fanon's work, we will discuss what we can learn from Fanon today.
The course draws on a wide range of primary literature as well as film material, and also invites students to draw connections on the basis of their own lived experiences and contexts.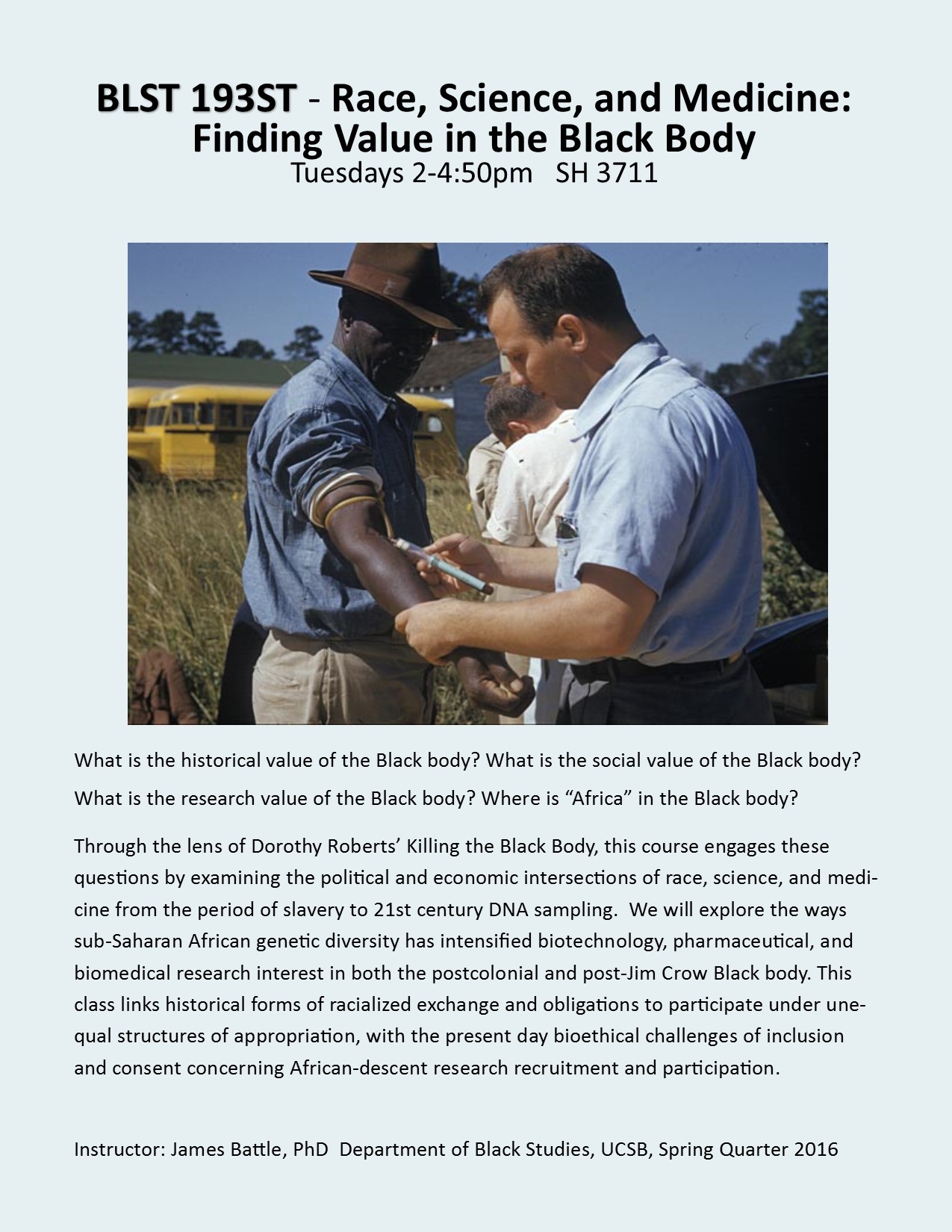 Course Description: BLST 193ST
What is the historical value of the Black body? What is the social value of the Black body? What is the research value of the Black body? Where is "Africa" in the Black body?
Through the lens of Dorothy Roberts' Killing the Black Body, this course engages these questions by examining the political and economic intersections of race, science, and medicine from the period of slavery to 21st century DNA sampling.  We will explore the ways sub-Saharan African genetic diversity has intensified biotechnology, pharmaceutical, and biomedical research interest in both the postcolonial and post-Jim Crow Black body. This class links historical forms of racialized exchange and obligations to participate under unequal structures of appropriation, with the present day bioethical challenges of inclusion and consent concerning African-descent research recruitment and participation.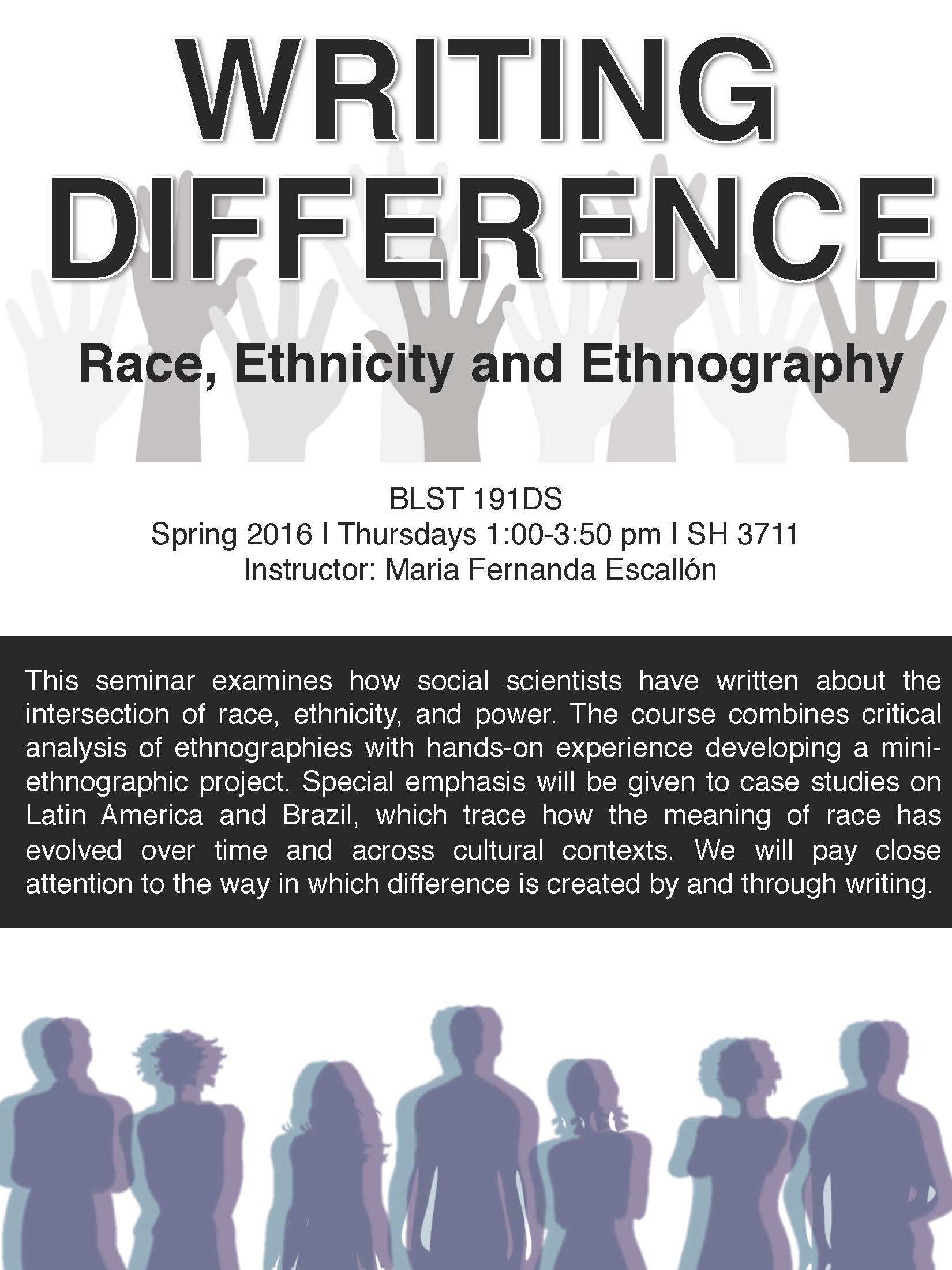 Course Description: BLST 191DS
This seminar examines how social scientists have written about the intersection of race, ethnicity, and power. The course combines critical analysis of ethnographies with hands-on experience developing a mini- ethnographic project. Special emphasis will be given to case studies on Latin America and Brazil, which trace how the meaning of race has evolved over time and across cultural contexts. We will pay close attention to the way in which difference is created by and through writing.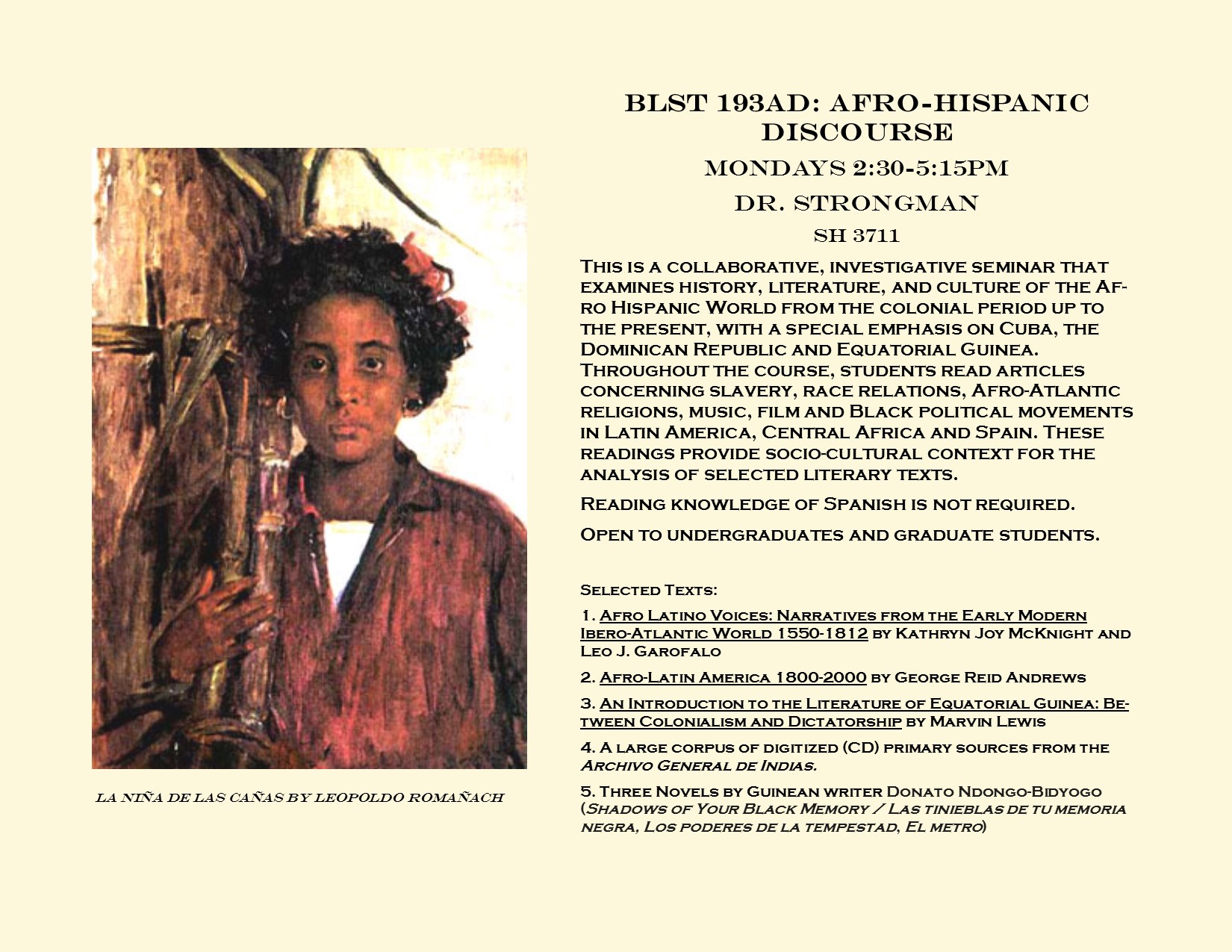 Course Description: BLST 193AD
This is a collaborative, investigative seminar that examines history, literature, and culture of the Afro Hispanic World from the colonial period up to the present, with a special emphasis on Cuba, the Dominican Republic and Equatorial Guinea. Throughout the course, students read articles concerning slavery, race relations, Afro-Atlantic religions, music, film and Black political movements in Latin America, Central Africa and Spain. These readings provide socio-cultural context for the analysis of selected literary texts.
                          ________________________________________________________________________________________________________
  Course Descript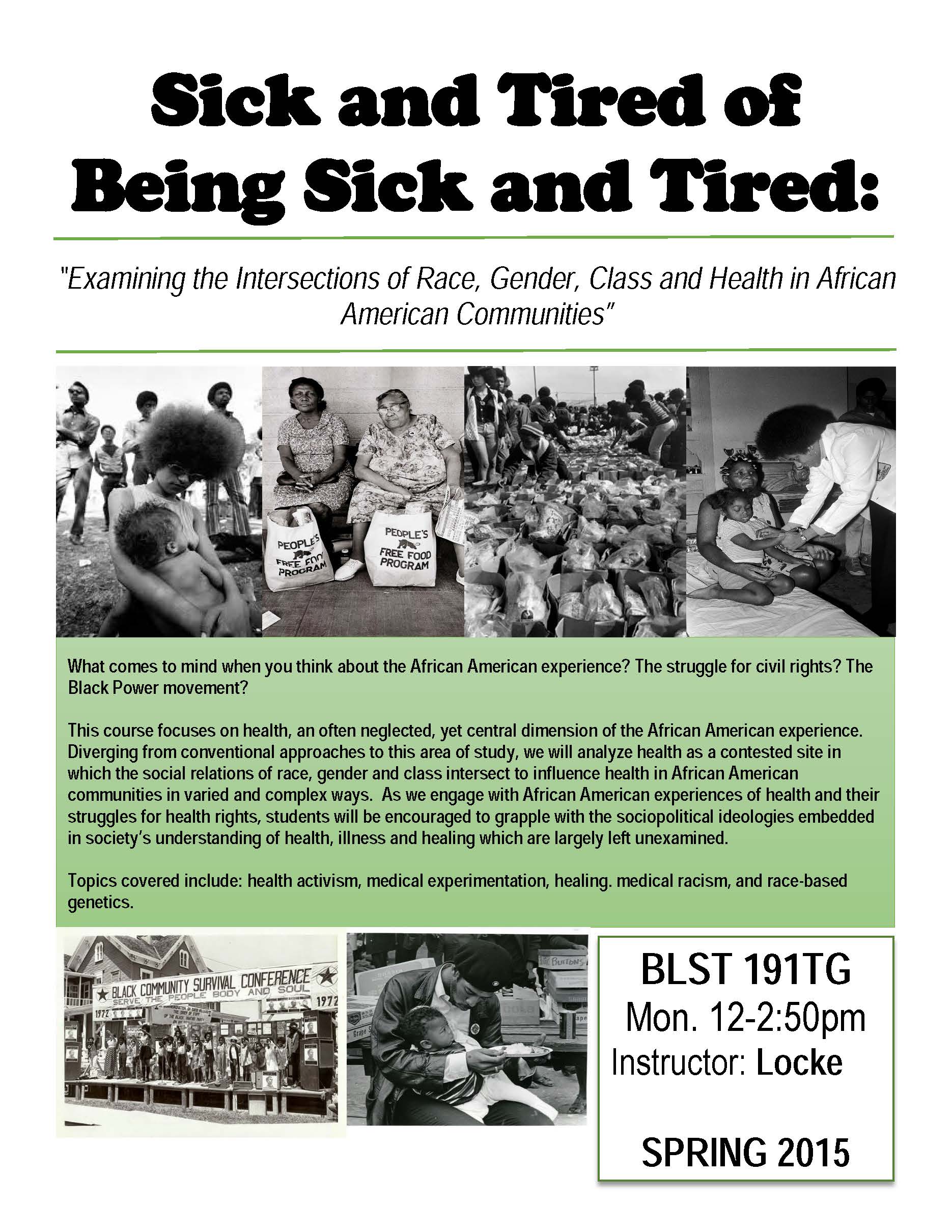 ion: BLST 191TG
"What comes to mind when you think about the African American experience? The struggle for civil rights? The Black Power movement?
This course focuses on health, an often neglected, yet central dimension of the African American experience.  Diverging from conventional approaches to this area of study, we will analyze health as a contested site in which the social relations of race, gender and class intersect to influence health in African American communities in varied and complex ways.  As we engage with African American experiences of health and their struggles for health rights, students will be encouraged to grapple with the sociopolitical ideologies embedded in society's understanding of health, illness and healing which are largely left unexamined.
Topics covered include: health activism, medical experimentation, healing. medical racism, and race-based genetics."
---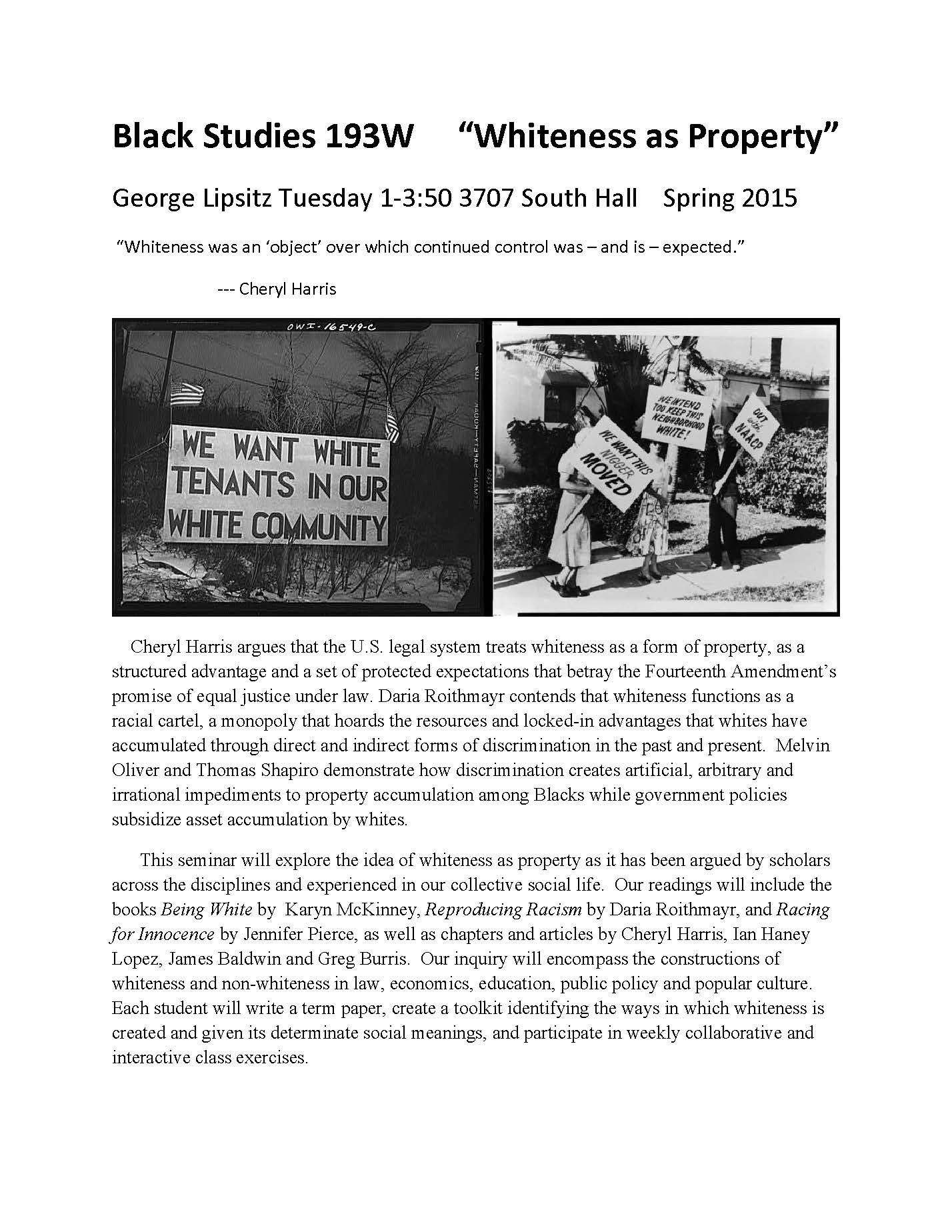 Course Description: BLST 193W
"Cheryl Harris argues that the U.S. legal system treats whiteness as a form of property, as a structured advantage and a set of protected expectations that betray the Fourteenth Amendment's promise of equal justice under law. Daria Roithmayr contends that whiteness functions as a racial cartel, a monopoly that hoards the resources and locked-in advantages that whites have accumulated through direct and indirect forms of discrimination in the past and present.  Melvin Oliver and Thomas Shapiro demonstrate how discrimination creates artificial, arbitrary and irrational impediments to property accumulation among Blacks while government policies subsidize asset accumulation by whites. 
This seminar will explore the idea of whiteness as property as it has been argued by scholars across the disciplines and experienced in our collective social life.  Our readings will include the books Being White by  Karyn McKinney, Reproducing Racism by Daria Roithmayr, and Racing for Innocence by Jennifer Pierce, as well as chapters and articles by Cheryl Harris, Ian Haney Lopez, James Baldwin and Greg Burris.  Our inquiry will encompass the constructions of whiteness and non-whiteness in law, economics, education, public policy and popular culture. Each student will write a term paper, create a toolkit identifying the ways in which whiteness is created and given its determinate social meanings, and participate in weekly collaborative and interactive class exercises."
---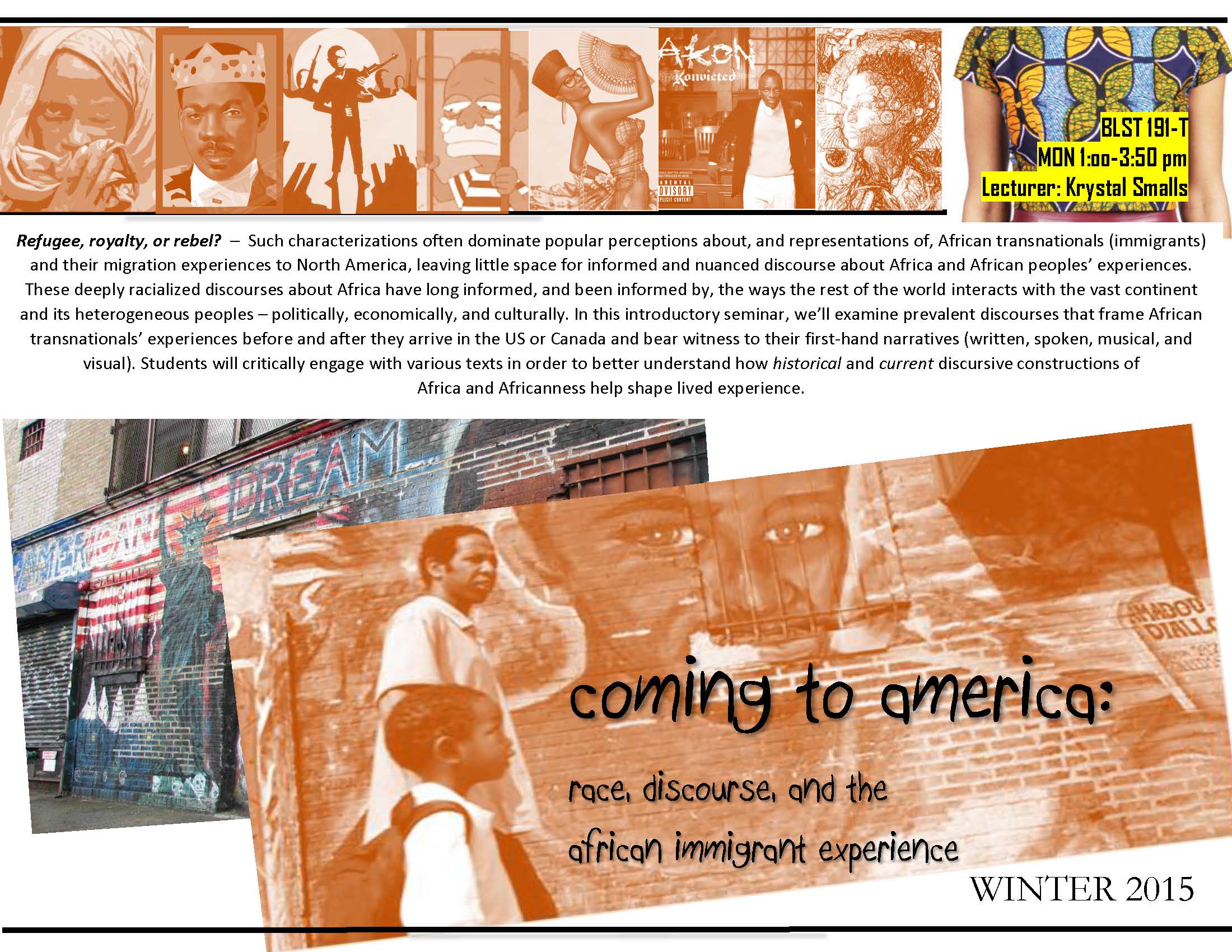 Course Description: BLST 191T
Refugee, royalty, or rebel? – Such characterizations often dominate popular perceptions about, and representations of, African transnationals (immigrants) and their migration experiences to North America, leaving little space for informed and nuanced discourse about Africa and African peoples' experiences. These deeply racialized discourses about Africa have long informed, and been informed by, the ways the rest of the world interacts with the vast continent and its heterogeneous peoples – politically, economically, and culturally. In this introductory seminar, we'll examine prevalent discourses that frame African transnationals' experiences before and after they arrive in the US or Canada and bear witness to their first-hand narratives (written, spoken, musical, and visual). Students will critically engage with various texts in order to better understand how historical and current discursive constructions of Africa and Africanness help shape lived experience.
---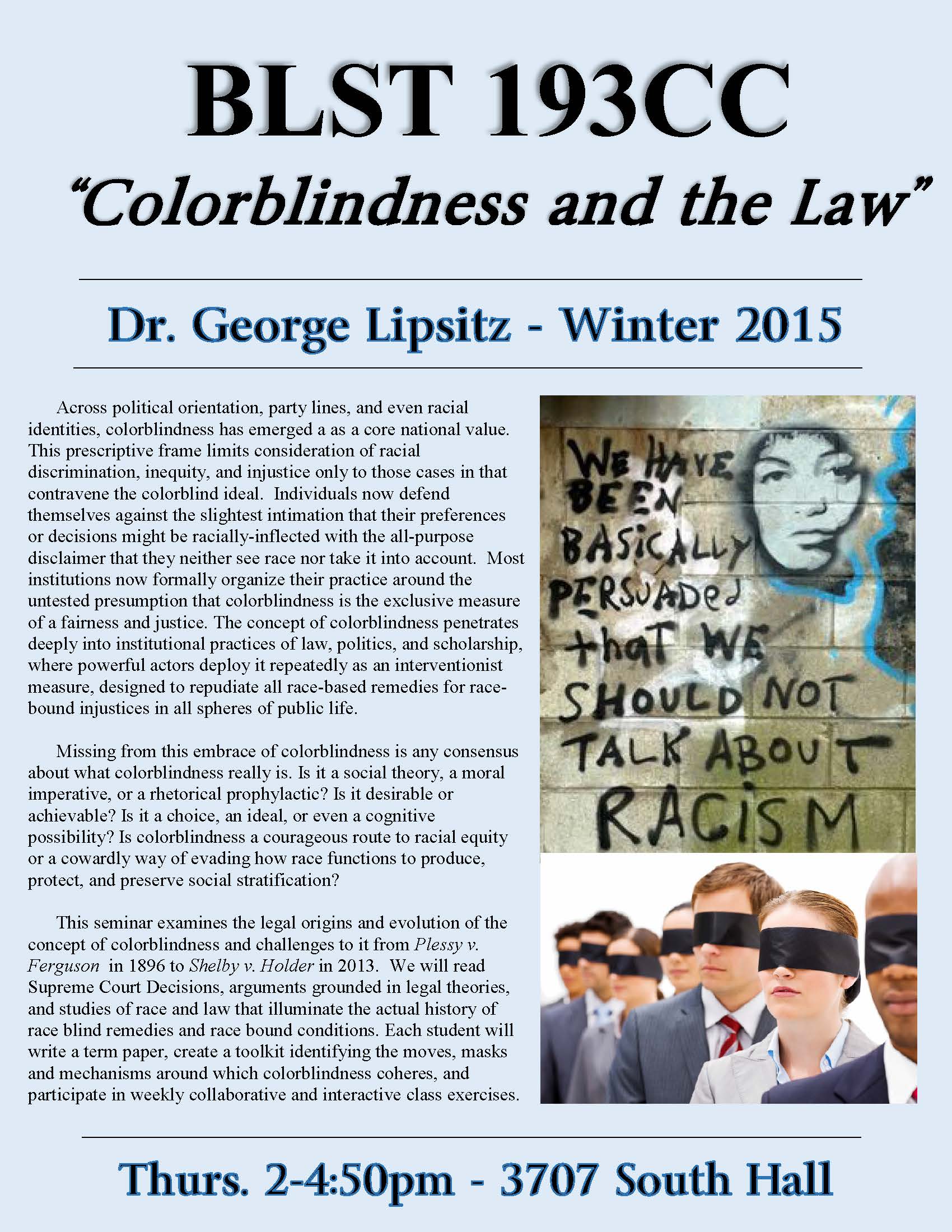 Course Description: BLST 193CC
Across political orientation, party lines, and even racial identities, colorblindness has emerged a as a core national value. This prescriptive frame limits consideration of racial discrimination, inequity, and injustice only to those cases in that contravene the colorblind ideal.  Individuals now defend themselves against the slightest intimation that their preferences or decisions might be racially-inflected with the all-purpose disclaimer that they neither see race nor take it into account.  Most institutions now formally organize their practice around the untested presumption that colorblindness is the exclusive measure of a fairness and justice. The concept of colorblindness penetrates deeply into institutional practices of law, politics, and scholarship, where powerful actors deploy it repeatedly as an interventionist measure, designed to repudiate all race-based remedies for race-bound injustices in all spheres of public life. 
Missing from this embrace of colorblindness is any consensus about what colorblindness really is. Is it a social theory, a moral imperative, or a rhetorical prophylactic? Is it desirable or achievable? Is it a choice, an ideal, or even a cognitive possibility? Is colorblindness a courageous route to racial equity or a cowardly way of evading how race functions to produce, protect, and preserve social stratification?
This seminar examines the legal origins and evolution of the concept of colorblindness and challenges to it from Plessy v. Ferguson  in 1896 to Shelby v. Holder in 2013.  We will read Supreme Court Decisions, arguments grounded in legal theories, and studies of race and law that illuminate the actual history of race blind remedies and race bound conditions. Each student will write a term paper, create a toolkit identifying the moves, masks and mechanisms around which colorblindness coheres, and participate in weekly collaborative and interactive class exercises.
---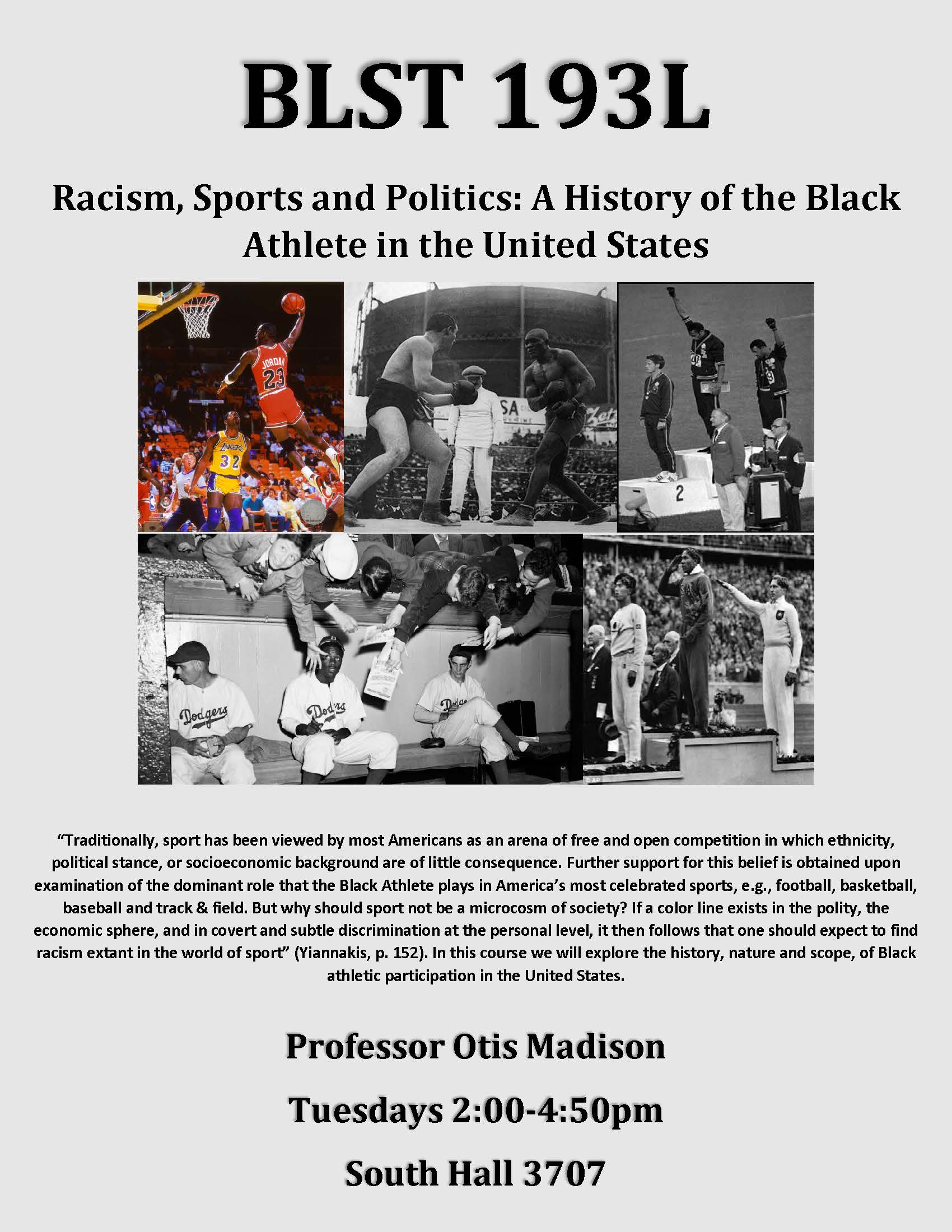 Course Description: BLST 193L
"Traditionally, sport has been viewed by most Americans as an arena of free and open competition in which ethnicity, political stance, or socioeconomic background are of little consequence. Further support for this belief is obtained upon examination of the dominant role that the Black Athlete plays in America's most celebrated sports, e.g., football, basketball, baseball and track & field. But why should sport not be a microcosm of society? If a color line exists in the polity, the economic sphere, and in covert and subtle discrimination at the personal level, it then follows that one should expect to find racism extant in the world of sport" (Yiannakis, p. 152). In this course we will explore the history, nature and scope, of Black athletic participation in the United States.
---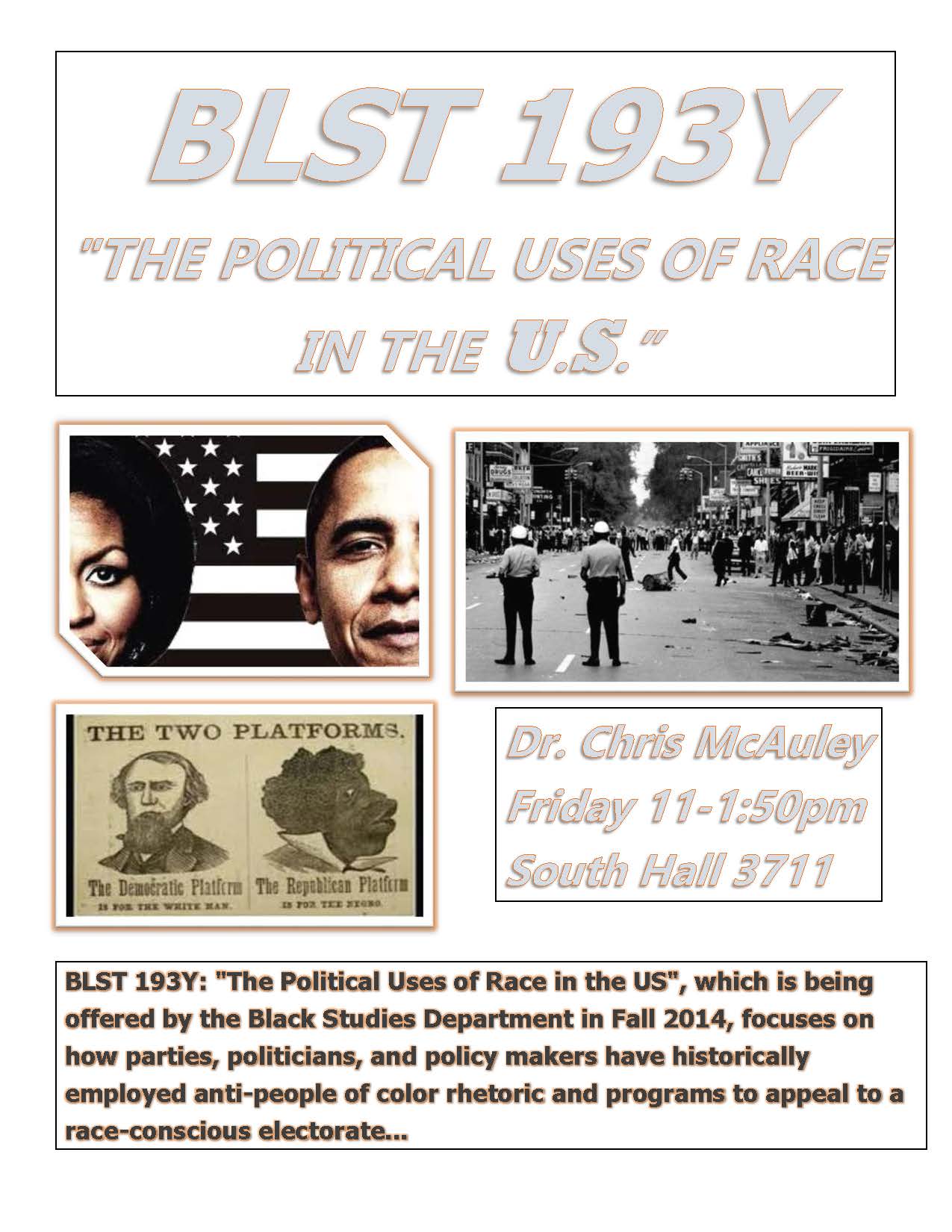 Course Description:BLST 193Y: Political Uses of Race
BLST 193Y: "The Political Uses of Race in the US", which is being offered by the Black Studies Department in Fall 2014, focuses on how parties, politicians, and policy makers have historically employed anti-people of color rhetoric and programs to appeal to a race-conscious electorate...
---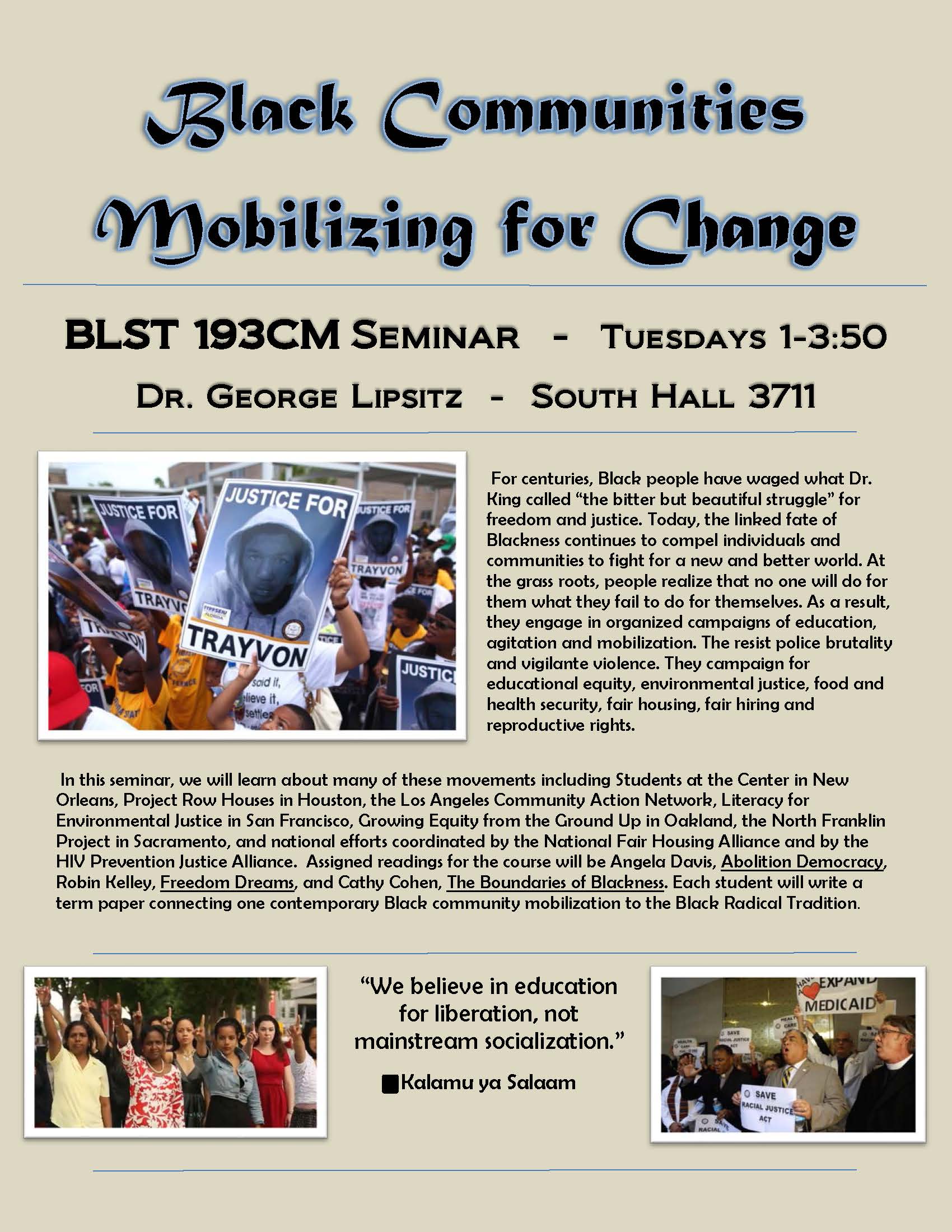 Course Description: BLST 193CM
For centuries, Black people have waged what Dr. King called "the bitter but beautiful struggle" for freedom and justice. Today, the linked fate of Blackness continues to compel individuals and communities to fight for a new and better world. At the grass roots, people realize that no one will do for them what they fail to do for themselves. As a result, they engage in organized campaigns of education, agitation and mobilization. The resist police brutality and vigilante violence. They campaign for educational equity, environmental justice, food and health security, fair housing, fair hiring and reproductive rights.
   In this seminar, we will learn about many of these movements including Students at the Center in New Orleans, Project Row Houses in Houston, the Los Angeles Community Action Network, Literacy for Environmental Justice in San Francisco, Growing Equity from the Ground Up in Oakland, the North Franklin Project in Sacramento, and national efforts coordinated by the National Fair Housing Alliance and by the HIV Prevention Justice Alliance.  Assigned readings for the course will be Angela Davis, Abolition Democracy, Robin Kelley, Freedom Dreams, and Cathy Cohen, The Boundaries of Blackness. Each student will write a term paper connecting one contemporary Black community mobilization to the Black Radical Tradition.
---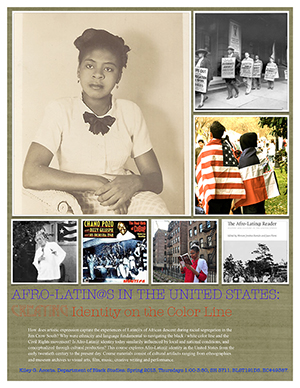 Course Description: BLST 191DS
How does artistic expression capture the experiences of Latin@s of African descent during racial segregation in the Jim Crow South? Why were ethnicity and language fundamental to navigating the black / white color line and the Civil Rights movement? Is Afro-Latin@ identity today similarily influenced by local and national conditions, and conceptualized through cultural production? This course explores Afro-Latin@ identity in the United States from the early twentieth century to the present day. Course materials consist of cultural artifacts ranging from ethnographies and museum archives to visual arts, film, music, creative writing and performance.
---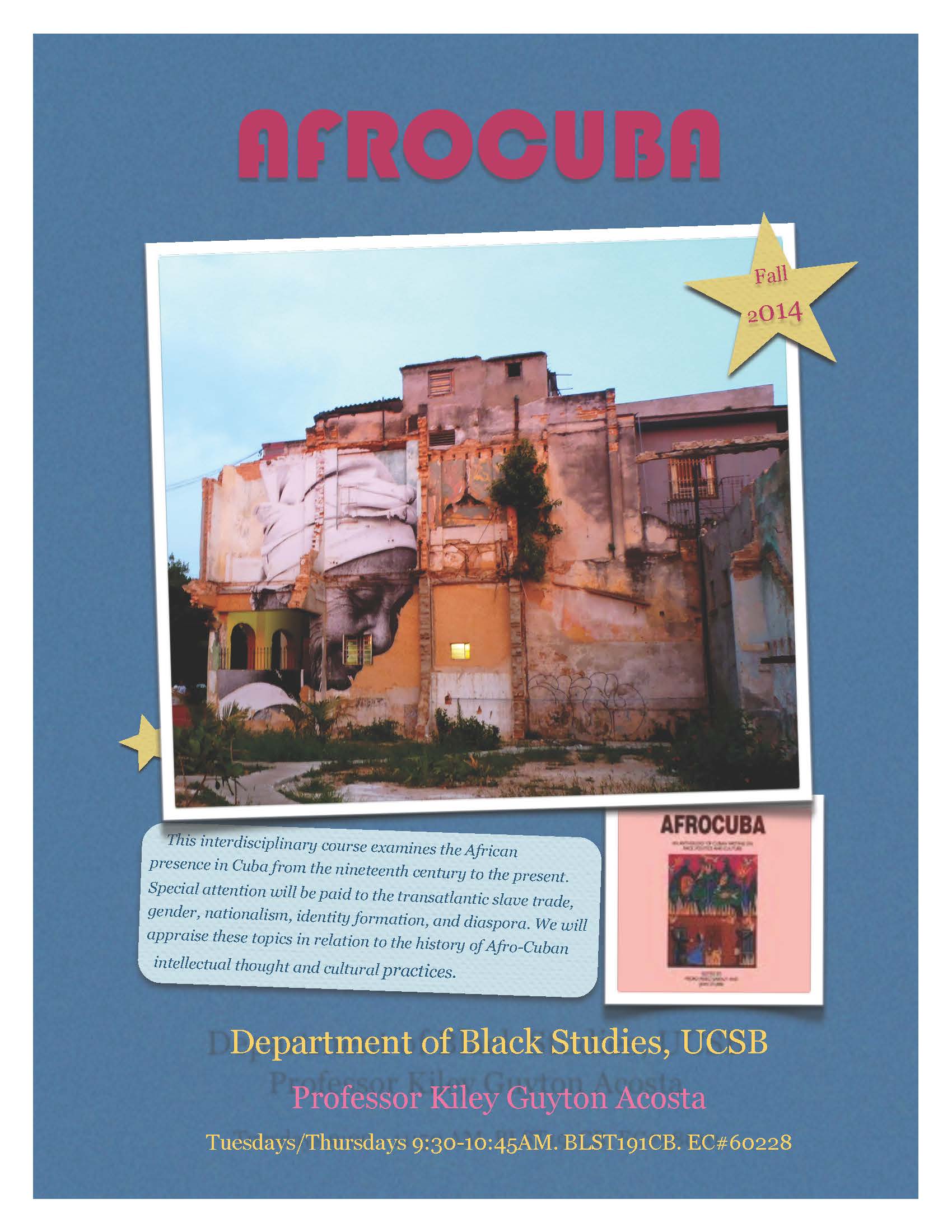 191CB: Afro Cuba
Course Description:
This interdisciplinary course examines the African presence in Cuba from the nineteenth century to the present. Special attention will be paid to the transatlantic slave trade, gender, nationalism, identity formation and diaspora. We will appraise these topics in relation to the History of Afro-Cuban intellectual thought and cultural practices.
---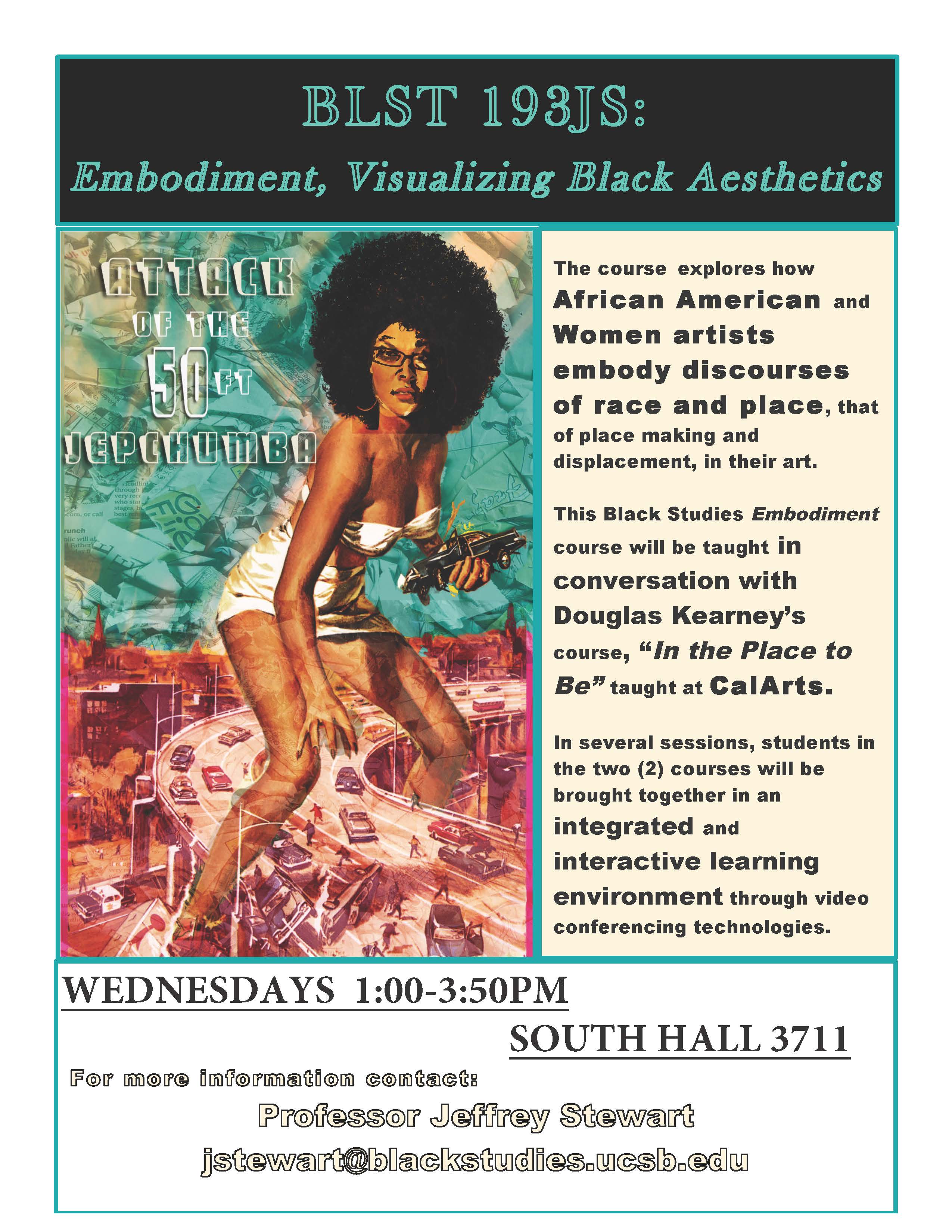 193JS: Embodiment, Visualizing Black Aesthetics
Course Description:
The course explores how African American and Women artists embody discourses of race and place, that of place making and displacement, in their art. This Black Studies Embodiment course will be taught in conversation with Douglas Kearney's course, "In the Place to Be" taught at CalArts. In several sessions, students in the two (2) courses will be brought together in an integrated and interactive learning environment through video conferencing technologies.
---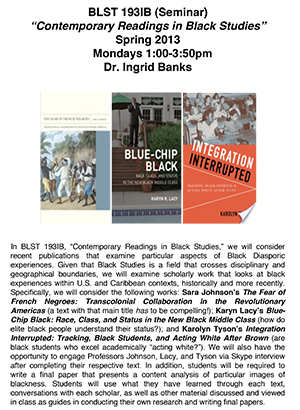 193IB: Contemporary Readings in Black Studies
Course Description: Students will consider recent publications that examine particular aspects of Black Diasporic experiences. Given that Black Studies is a field that crosses disciplinary and geographical boundaries, we will examine scholarly work that looks at black experiences within U.S. and Caribbean contexts, historically and more recently. Specifically, we will consider the following works: Sara Johnson's The Fear of French Negroes: Transcolonial Collaboration in the Revolutionary Americas (a text with that main title has to be compelling!); Karyn Lacy?s Blue-Chip Black: Race, Class, and Status in the New Black Middle Class (how do elite black people understand their status?); and Karolyn Tyson's Integration Interrupted: Tracking, Black Students, and Acting White After Brown (are black students who excel academically "acting white?"). We will also have the opportunity to engage Professors Johnson, Lacy, and Tyson via Skype interview after completing their respective text. In addition, students will be required to write a final paper that presents a content analysis of particular images of blackness. Students will use what they have learned through each text, conversations with each scholar, as well as other material discussed and viewed in class as guides in conducting their own research and writing final papers.
---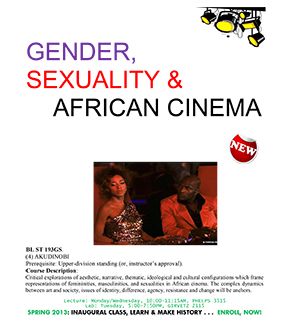 193GS: Gender and Sexuality in African Cinema
Course Description: Critical explorations of aesthetic, narrative, thematic, ideological and cultural configurations which frame representations of femininities, masculinities, and sexualities in African cinema. The complex dynamics between art and society, issues of identity, difference, agency, resistance and change will be anchors.
---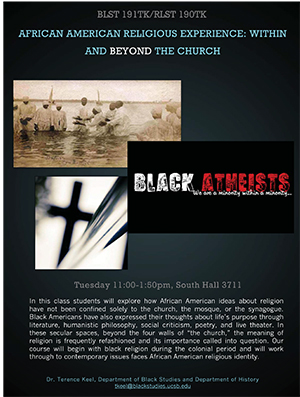 193TK: AFRICAN AMERICAN RELIGIOUS EXPERIENCE: WITHIN,AND BEYOND THE CHURCH
Course Description: In this class students will explore how African American ideas about religion have not been confined solely to the church, the mosque, or the synagogue. Black Americans have also expressed their thoughts about life's purpose through literature, humanistic philosophy, social criticism, poetry, and live theater. In these secular spaces, beyond the four walls of "the church," the meaning of religion is frequently refashioned and its importance called into question. Our course will begin with black religion during the colonial period and will work through to contemporary issues faces African American religious identity.
---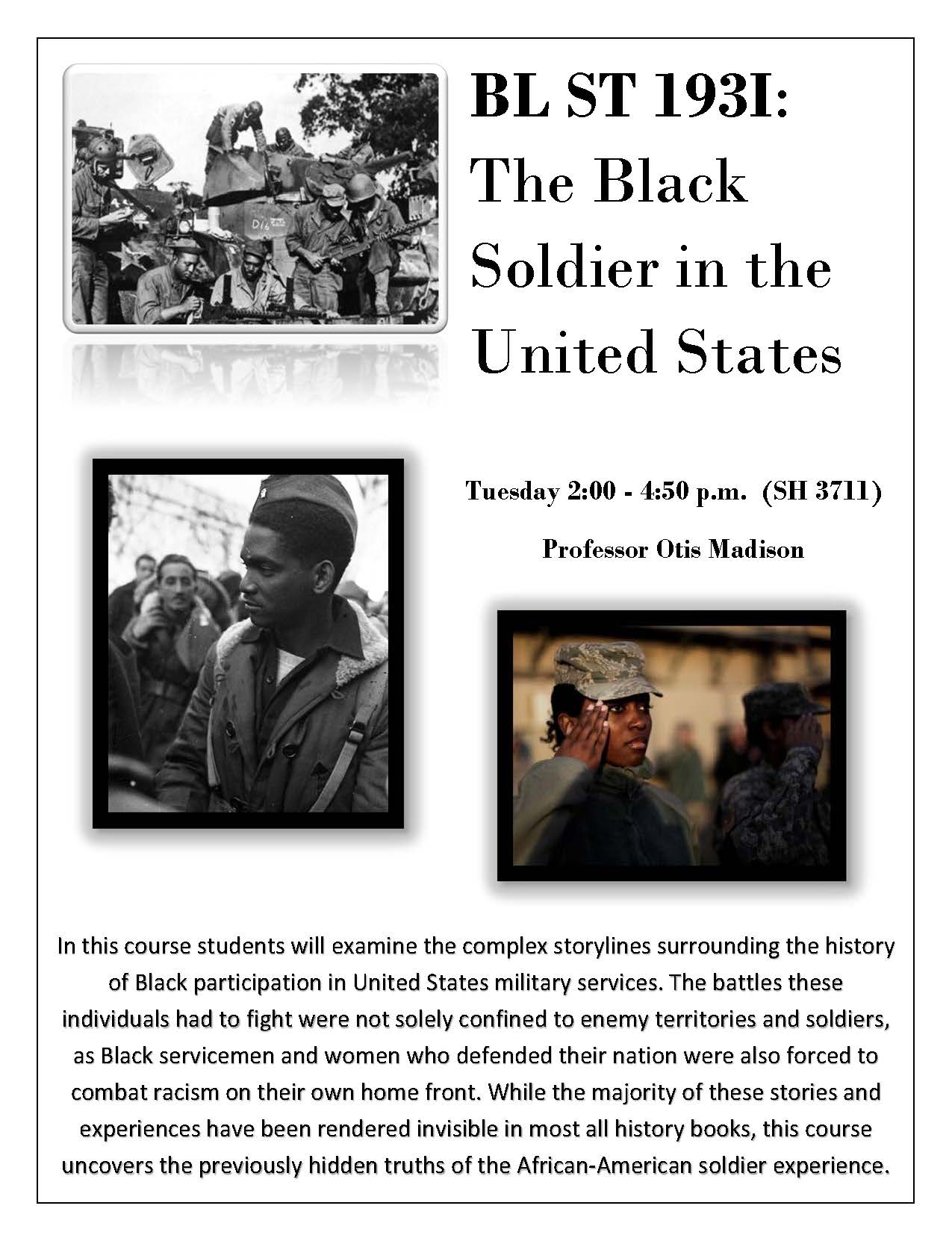 Course Description:
In this course students will examine the complex storylines surrounding the history of Black participation in United States military services. The battles these individuals had to fight were not solely confined to enemy territories and soldiers, as Black servicemen and women who defended their nation were also forced to combat racism on their own home front. While the majority of these stories and experiences have been rendered invisible in most all history books, this course uncovers the previously hidden truths of the African-American soldier experience.
---
Please Contact Administrative Officer (businessofficer@blackstudies.ucsb.edu) if interested in the courses: