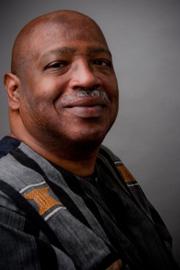 Bio
:
Earl Stewart is an Associate Professor in the Department of Black Studies. He received his BS in Secondary Education from Southern University, Baton Rouge, studying under Walter Craig and the late Alvin Batiste in it Jazz Institute. He then received his MM and DMA in Composition from The University of Texas at Austin, studying with Karl Korte, Joseph Schwantner, and world-renowned author of Counterpoint (the late) Kent Kennan.
In addition to conducting, Dr. Stewart's compositions have been performed by soloists Brenda Wimberly, Carolyn Sebron, and Metropolitan Opera diva Barbara Conrad; choreographer Chuck Davis; jazz artists Jullian 'Cannonball' Adderly, Alvin Batiste and Kent Jordan; and narration by actor Moses Gunn. Ensembles who have performed his music include the Southern University Chorus (Baton Rouge, Louisiana); the Southern University Jazz Orchestra; the Austin Symphony Orchestra (Texas); the Boston Orchestra and Choral (Massachusetts); the National Symphony Orchestra of Ghana (Accra, Ghana, West Africa); the National Academy of Music Chorus of Wineba (Ghana); the Scott Joplin Orchestra of Houston (Texas); the University of California Jazz Orchestra; and the Mobile Symphony Orchestra (Alabama); and members of the Louisiana Philharmonic Orchestra.
Works have also been performed at such venues as the Heineken Jazz Festival in Tel Avid, Israel; Milsaps College; Dillard University (New Orleans); Saenger Theatre (Mobile, Alabama); Brooklyn Conservatory of Music (New York); The New Orleans Jazz and Heritage Festival (Louisiana); the Sixth Annual Biennial International and Symposium Festival on New Intercultural Music, University of London, Institute of Education (England); the University of New Orleans Performing Arts Center Recital Hall (Louisiana); and Weill Recital Hall at Carnegie Hall in New York.
Dr. Stewart is the author of African American Music: An Introduction, a musicological survey of African American music from the Civil War to the present. He has published articles on the aesthetic and theoretical significance of African American music – several of which were co-authored with Dr. Jane Duran. A sampling includes "Towards an Aesthetic of Black Musical Expression," Journal of Aesthetic Education; "Scott Joplin and the Quest for Identity,"Journal of Aesthetic Education; "Coleridge-Taylor: Concatenationalism and Essentialism in an Anglo-African Composer," American Philosophical Association Newsletter of Philosophy and the Black Experience.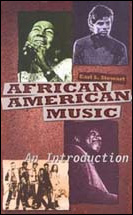 Books
Eclectic Fables
Vernacular Harmony
African American Music An Introduction
The Art of Soul Music: 1960-1980 (Preliminary Edition)